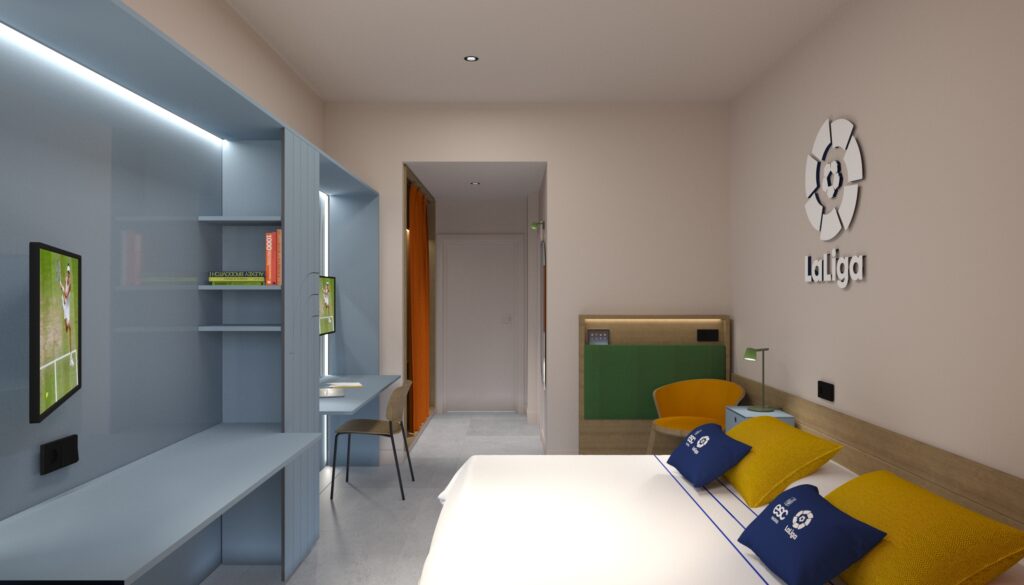 Description
For those who need a higher degree of concentration and privacy, we have created rooms for individual use with private bathroom, television, closets, wifi, air conditioning, work space, laundry and cleaning service.
Equipment and Services
Furnished

with private bathroom, closets, work space

Cleaning

Weekly room cleaning

Laundry

Service available 24h

Wi-fi and TV

Description here
Extras
Private bathroom

Exclusive use
ESC Residence
Book now your Single Room
Fill in the ESC Colivinn pre-registration form (valid for groups or individuals) and take the first step to live a great training experience.
Location
ESC LaLiga & NBA is located in Villaviciosa de Odón, just 20 minutes from Madrid, a perfect location for our athletes to live, study and practice sports in the middle of nature.
The complex is located within a high standing private urbanization called El Bosque. A unique place that guarantees maximum security, surrounded by luxurious villas and lush forests so that athletes can fully concentrate on both their studies and their training. A place that has the privilege of having a unique IN LIVE playlist of bird sounds early in the morning.
Opinions:
Aussie rules a blinder of a game Plugger ruck and roll our blood our sweat your tears claret on the field worm burner. Take a punt the Brick With Eyes pepper the goals the Great White Shark. Name of person 10 years old - Esc School / 3rd Year
Aussie rules a blinder of a game Plugger ruck and roll our blood our sweat your tears claret on the field worm burner. Take a punt the Brick With Eyes pepper the goals the Great White Shark. Name of person Mother of student / Age 12 - Esc School / High School
Aussie rules a blinder of a game Plugger ruck and roll our blood our sweat your tears claret on the field worm burner. Take a punt the Brick With Eyes pepper the goals the Great White Shark. Name of person 10 years old - LaLiga U18 program
Aussie rules a blinder of a game Plugger ruck and roll our blood our sweat your tears claret on the field worm burner. Take a punt the Brick With Eyes pepper the goals the Great White Shark. Name of person 10 years old - Esc School / 3rd Year
Aussie rules a blinder of a game Plugger ruck and roll our blood our sweat your tears claret on the field worm burner. Take a punt the Brick With Eyes pepper the goals the Great White Shark. Name of person Mother of student / Age 12 - Esc School / High School
Aussie rules a blinder of a game Plugger ruck and roll our blood our sweat your tears claret on the field worm burner. Take a punt the Brick With Eyes pepper the goals the Great White Shark. Name of person 10 years old - LaLiga U18 program