Embracing Learning and
Cultivating Curiosity
Learning begins when an idea creates a spark. When students take this spark and make connections with other ideas, both inside and outside the classroom, it creates a light that illuminates the minds of all who participate in this process. It is our purpose that our students see the learning process as integral to their development and identity and their relationship to the world around them.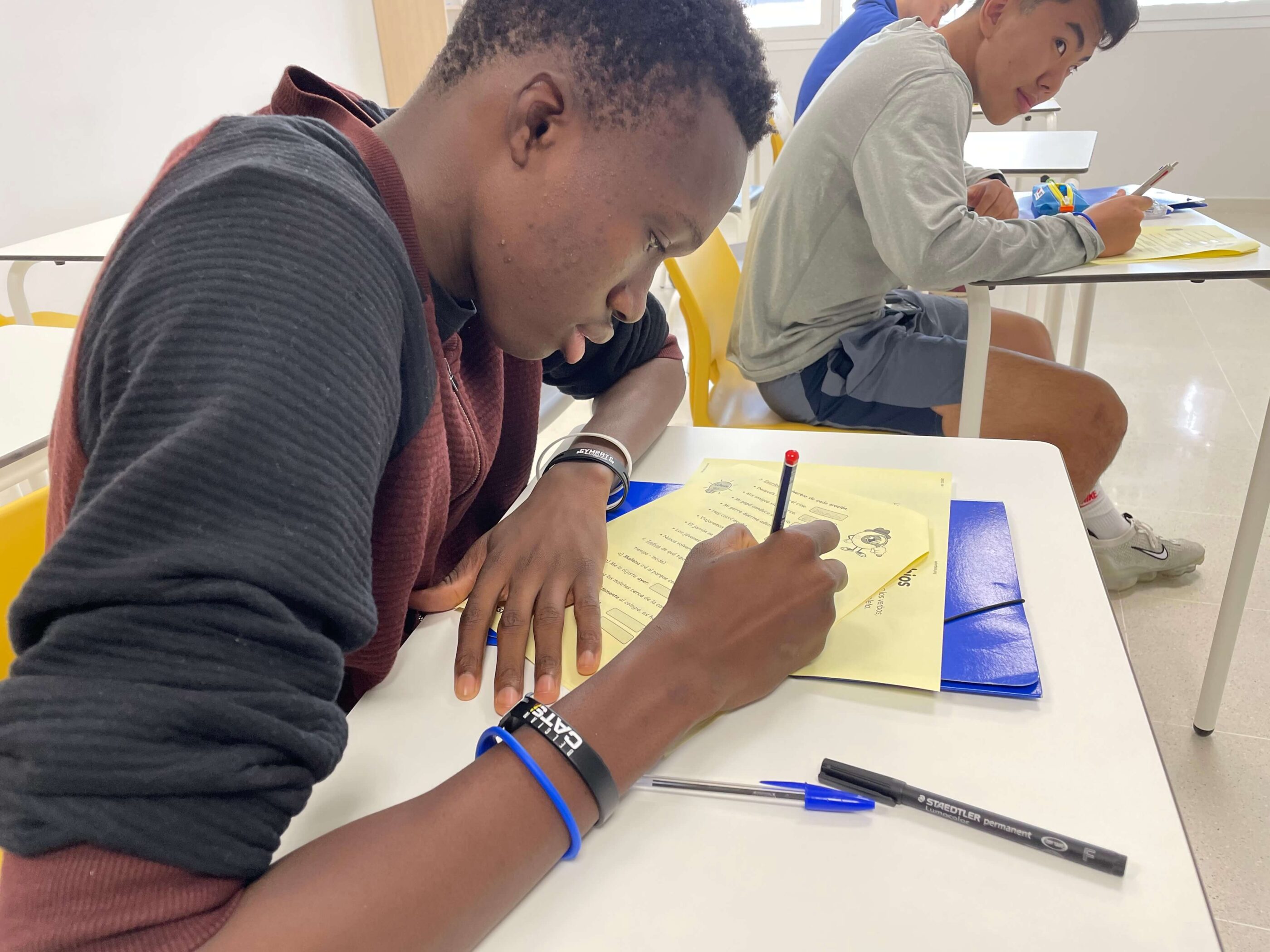 The world is at our fingertips
Our students come from different parts of the world. We use this diversity of experiences and perspectives to build a community of competent and committed people, capable of interacting and contributing significantly to present and future society.
Cynthia Murphy
Head of School
A passionate educator since 1984, I am delighted to assume the position of Director of the ESC American School, Madrid. I have been a humanities teacher, in-residence instructor, coach, theater and music director, and coordinator of international and diversity, equity and inclusion programs, and most recently I was director of a joint project between schools in the U.S. and Spain. I believe in the potential of our youth and their ability to make a meaningful difference in the world, and it is my privilege to help them along their journey. I enjoy walking and painting, as well as reading and playing music.
Maria Marshall-Clarke
Dean of School
With over 15 years of experience in education, social science research, project management and coaching, specializing in intercultural communication and language acquisition. I am passionate about working with and for people, with an emphasis on their development, fostering a growth mindset. I have extensive international experience in multicultural environments. I have a degree in Sociology, with a minor in Psychology, with a Masters in Research in the UK, where I also obtained a government scholarship to complete my doctoral studies. I have studied Law, and postgraduate studies in International Relations and Teaching Spanish as a Foreign Language. My causes are youth development, educational innovation and evidence-based approaches to enhance human potential. Innovation, discovery and positive change are my driving forces.
Ryan Bradley
STEM Teacher
I am a creative and curious teacher with over 15 years of experience. I love teaching, consider myself a student and a lifelong learner. Originally from New Jersey, I have also lived in New York and Spain. I have a bachelor's degree in psychology with a minor in philosophy and a master's degree in education with two teaching certifications. I have experience teaching students in grades 2-12 and a multitude of subjects including science, math, English, counseling, health, psychology, culinary arts, and special education. My mission is to make teaching and learning fun, interesting, exciting and relevant to all. Some of my hobbies and interests include photography, psychology, music, sports, cooking, travel and art. I have traveled to over 35 countries on 6 continents.
Delaney Jones
Humanities Teacher
I have lived in Spain for the past five years working as a conversation assistant and I am passionate about bilingual and international education. In 2020 I studied a Master's degree in Bilingual and Multicultural Education at the University of Alcalá. During this time I researched the bilingual education system in Spain, particularly the bilingual history curriculum. My studies are in Spanish Language and Culture and Political Science, but education is what I am passionate about. When I am not in the classroom, I enjoy traveling around Spain and exploring new places with my two dogs.
Ella Marks
STEM Teacher
I am one of the science teachers at ESC American School. At moving several times as a child times as a child, learning about new cultures and experiences led me to focus more on the world around me. I fell in love with science and after working a variety of jobs, including digital marketing, a writer/translator for an educational app, a teaching assistant, I discovered that my passion for science could be shared, I could dedicate my future to talking about science! I ended up following in my parents' footsteps and became a science teacher. I have been teaching Biology and Chemistry in Madrid, transmitting to my students the passion and curiosity that all scientists have and need, and the ever present question, why?
Isabel García Carrión
Psychologist
Psychologist specialized in sports and education.
International futsal player and sports enthusiast.
Professional experience linked to the field of sport, working with high performance teams in men's and women's soccer, managing sports projects and providing training to different sports agents (sports directors, coaches, athletes, etc.).
My professional and sporting experience has allowed me to understand sport as a vehicle and a way of life. I firmly believe in the enormous educational potential, in the transmission of values and in the physical, cognitive and social benefits that an adequate sport practice brings.
I am delighted to be part of the ESC American School Madrid and to have the opportunity to accompany and promote the integral development of athletes from all over the world.
Juan Carlos Gallardo
Professor of Spanish Language and Culture
I have a degree in Primary Education and Humanities and I have reinforced my degree with a Master's Degree in Compulsory Secondary Education and Baccalaureate in the specialty of Geography and History. Since I was very young I have had the dream of being a teacher and being able to train young people. I am very happy to be part of ESC American School Madrid, because here I have the best tools and equipment to help students progress, grow and above all to achieve their goals.
Cristian Sanchez Montenegro
Professor of Spanish Language and Culture
I am a passionate teacher from Córdoba. I graduated in Humanities and continued my studies getting a Master's Degree in Secondary Education. In addition, I am a technician in Occupational Risk Prevention and Physical Education teacher. I have collaborated for several years in sports clubs as assistant coach, physical trainer and monitor of children from 4 to 16 years old. It is a pleasure for me to be part of a team with values, full of energy and great projects as ESC American School Madrid, which gives me the opportunity to unite my two passions: soccer and teaching.
About ESC American School
Our curriculum is designed to respond to the needs of an ever-evolving 21st century society. We encourage leadership and creative problem solving. We are an international community, communicating in English and promoting the development of respect, responsibility and resilience so that today's students can become tomorrow's leaders.